LIGHT METHOD
REFLECTIVE MODE
Reflective displays have a full reflector. They cannot be backlit. It is necessary to use type under ambient light condition. In this condition, they offer the lowest power option and the best contrast. They are not available in "negative image".
TRANSFLECTIVE MODE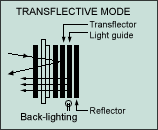 Transflective displays combine the features of reflective and transmissive modes. These positive image displays can be read in all lighting conditions. The backlight can be turned on for low light levels or operated continuously to add the light-emitting look to a product.
TRANSMISSIVE MODE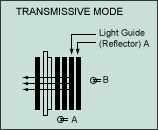 Transmissive displays are usually backlit for best readability. They can be used in well lit indoor conditions to dark environments, typically not recommended for daylight usage. They offer a different appearance than typical LCDs, bringing a light emitting look to the product.
* In case of B, no reflector is used.
* A backlight is always used.